Material
• Aluminium (5052, 6061, 6063, 1060)
• Carbon Steel (SPCC, HRS, SAPH440
• Stainless Steel (201, 304, 316)
• Cold Galvanized Steel
Equipment
• Mitsubishi CO2 Laser Cutting 3kW
• LVD Fiber Laser Cutting 8kW with auto loading material tower
• AccurPress CNC Sheet Bending 100T - 6 Axis
• LVD CNC Sheet Bending 80T - 9 Axis
• LVD CNC Sheet Bending 80T - 6 Axis
• LVD CNC Sheet Bending 24T - 5 Axis
• Miller TIG, MIG and Spot Welding
• Panasonic TAW Welding Robot with 3 Axis Turntable
• Sheet Metal Drilling & Threading CNC
• Automatic Plate Deburring
• Custom Made Welding Jigs
Secondary Process
• TIG and MIG
• Robot Welding
• Spot Welding
• CNC Sheet Bending
• Riveting
• PEM
• Laser Etching
Surface Finishing
• Powder Coating
• Anodizing
• Electro Coating
• Trivalent Zinc Plating
• Hot Dip Galvanized
• Passivation
• Geomet
• Sandblast
Why choose Komaspec for OEM sheet metal fabrication?
We help you fine-tune your product design through DFM and ensures that your parts can be manufactured accurately, efficiently, and at a quality that matches your specifications.
We have the capabilities to manufacture complex, high precision parts using steel, aluminum and stainless steel.
Our ERP enables us to manage in-house manufacturing of finished products with multiple SKUs. Our most complex product manufactured to date is made of 320 components.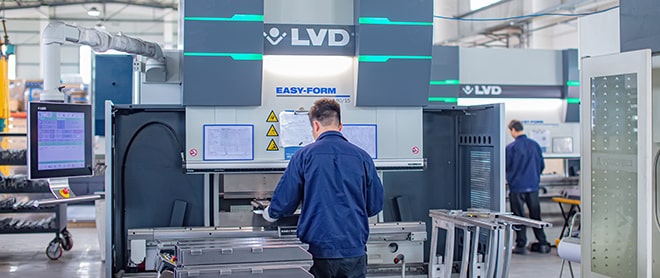 Design to manufacturing support to full scale mass production for sheet metal products. We support secondary operation such as welding, riveting and surface finishings and also provide sub-assembly service or deliver finished products.
Manual & Robotic Welding
Welding Jig Design & Manufacturing In-House by our engineering team for manufacturing process repeatability